Do you have a story to share?

To mark our 35th anniversary year, we are looking for people who we have helped over the years who would like to share their story with us. Through your stories we will highlight the real impact on people of failures in medical care and the importance of dealing with errors openly and honestly. And by talking openly we hope to raise awareness and bring about real improvements in patient safety.
We would love to hear from you if we have helped you in any way – from a simple helpline call to our full inquest support service. This would be your chance to tell your story and be heard – by our supporters, clinical negligence lawyers, and key people in the government and health service. You would be treated sensitively and respectfully, and you would retain control of your story.
If you would like to find out more with no obligation:
Please click here to email us your details
---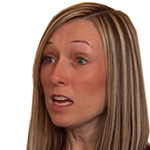 "If I can try to make positive changes come out of Paul's death and stop just one person going through what we're all going through then that's what I want to achieve."
Lisa Richards Everton