Inquests

The loss of a loved one can be one of the most difficult things you have to deal with and this experience can be made even worse if you are faced with an inquest to investigate the cause of death.
How AvMA can help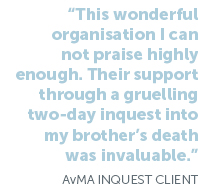 Our self-help guides provide clear and straightforward explanations of some of the processes most commonly used by people investigating a claim. The following links will take you to the guides which are most commonly accessed by people going through the inquest process.
AvMA's inquest leaflet: Provides essential information on a range of issues from what an inquest is, the process itself as well as some frequently asked questions.
The following guides might also be helpful:
---
AvMA's pro bono inquest service
Important information on our service during the COVID-19 situation
Given the uncertain circumstances surrounding the recent COVID-19 outbreak and the associated government restrictions we have reluctantly taken the view that we are unable to assist by attending inquests or hearings with clients while the current government restrictions are in force. Please be assured that we will continue to provide advice, support and assistance by phone and in writing.
Following government guidelines and advice, AvMA staff are working from home, we have access to our emails and any new client forms you submit. We are committed to providing our helpline and written services to the public at this difficult time. If you would like help with a forthcoming inquest, then please complete the inquest new client form.
For advice on any matters relating to possible failures in healthcare that did not result in death please complete a new client form.
What can I do if the inquest is due to take place in the next few weeks?
On 26th March, the Chief Coroner issued new guidance.
That guidance makes clear, (paragraph 4) that coroners remain responsible for their own judicial decisions and "the Chief Coroner cannot direct them to make a particular kind of decision in an individual case or a group of cases, neither can he intervene in any other way in individual cases". The guidance goes on to emphasise that no physical hearings should take place unless it is "urgent and essential business" and that it is safe to do so. In any event social distancing should be observed.
Inquest hearings should take place remotely where possible, but these must be held in public and as such the coroner should conduct those hearings from court (not their homes). Hearings taking place in public "may mean they take place where only a member of the immediate family is present and with a representative of the press being able to be present".
In our experience, many coroners are sympathetic to families and other interested parties regarding the difficulties they face by attending an inquest at a time when there are restrictions on public gatherings and social distancing is recommended. If the coroner has not already adjourned your hearing, you can write and request an adjournment of a hearing which is due to take place in the next few weeks. The coroner is not obliged to agree to your request but will have to consider it. If you do wish to request an adjournment you may find this standard letter helpful.
If the coroner does go ahead with the inquest, there should be an audio recording of the hearing. You can write and ask the coroner for a copy of the audio recording but please note, the coroner may charge a fee for the recording.
If you have concerns and would like advice from us, please complete an inquest new client form and one of our team will get back to you as soon as possible. Alternatively, you could try telephoning our helpline which is open from 10 am – 3.30 pm, Monday to Friday inclusive. Click here for more details or see our range of self-help guides.
---
If you have received help or advice from AvMA please consider leaving us feedback. We value your input.
Or you can make a donation to us through Virgin Money Giving


---