"Since the surgery I am in more pain than before"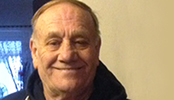 Former Royal Marine Rod was looking forward to a happy retirement following his years of service to his country. He and his wife owned a lovely two-berth touring caravan and enjoyed travelling around the country throughout the year from their home in Ipswich. But following a botched operation in 2007, he has spent the last ten years suffering follow-up operations, constant pain and stress, and a long fight for justice.
Rod had been suffering from chronic pain which had proved resistant to treatment, so in 2007 his local hospital referred him to a neurosurgeon for a dorsal column stimulator implant. This involves placing a device under the skin to produce mild electrical pulses that are sent to the spinal cord. These pulses can mask pain and the level of stimulation can be adjusted as required.
When he met the neurosurgeon, Rod was concerned that the consultation seemed very short for such a major operation, but was reassured that the surgeon had 30 years of experience and the operation was scheduled for September 2007. The operation appeared to go well and a week later, the stimulator was switched on. To Rod's dismay, it was immediately clear that electrodes had been placed to stimulate his left side, not the right side where he had the pain.
X-rays showed that the electrodes had been incorrectly placed and Rod was offered corrective surgery which he accepted. After a wait of eight months, the surgery finally took place in May 2008. But yet again, when the stimulator was turned on it was not working in the right place – on the right side this time but still not at the site of the pain.
With no improvement in his pain, Rod had the stimulator removed in October 2008, followed by further operations in 2009 and 2011 to remove a remaining lead. In addition, pieces of electrode were found to have been glued to his spine and could not be removed for fear of paralysis. Rod was left with his original pain, compounded by additional pain, scarring and distress following this series of major operations.
There followed a long fight to get compensation for the original botched operation and the numerous failed attempts to correct the initial error. His efforts to get the hospital to admit their errors are complicated by the fact that he can't have an MRI scan to reveal the extent of the damage due to the pieces of electrode left lodged in his spine.
After reading about AvMA's clinical negligence helpline in a magazine in 2015, Rod called and spoke to one of our specially trained volunteers. We were able to advise him of his rights and the best way to pursue his case, as well as putting him in touch with specialist solicitors on our accredited clinical negligence panel.
Rod continues to be in chronic pain and has been unable to work since the operation. He has suffered bouts of depression, as well as the loss of his life savings as he battles for answers. His beloved caravan has had to be sold to cover his bills and despite support from specialist clinical negligence solicitors, the hospital has yet to admit any liability.
"I can honestly say that since all the surgery I have had to endure, I am in more pain than before," says Rod. "AvMA was very helpful and put me in touch with two solicitors but I do not have the upfront costs as we have lost our savings through all of this. I have been let down by the NHS and if I had known then what a state I would be in now, I would never have had the surgery."