Develop your career in clinical negligence
​This is the course for those who are new to the specialist field of clinical negligence, and, for the first time, it is coming to you online! The event is especially suitable for trainee and newly qualified solicitors, paralegals, legal executives and medico-legal advisors. It will provide the fundamental knowledge necessary to develop a career in clinical negligence. Expert speakers with a wealth of experience will cover all stages of the investigative and litigation process relating to clinical negligence claims from the claimants' perspective.
The format
The content will be released to delegates on 19 January, and you will have one week to watch 15 of the conference presentations before joining the online event live on the morning of Thursday 28 January to participate in two workshops and interact with the speakers and fellow delegates. Content will then be available for a further 30 days.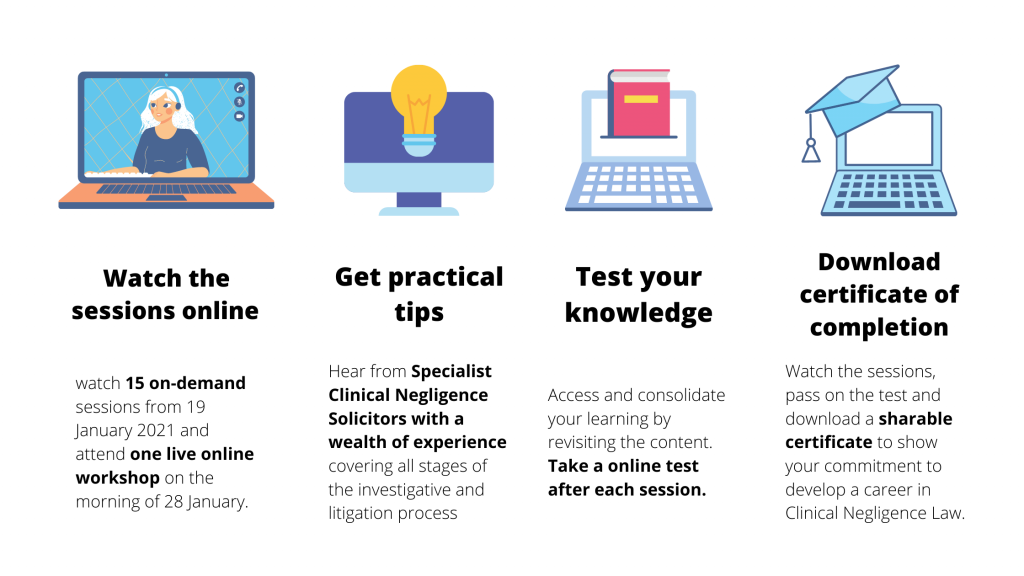 ​
PROGRAMME
ALTERNATIVES TO LITIGATION
LISA O'DWYER, Director Medico-Legal Services, AvMA
THE LEGAL TEST FOR BREACH OF DUTY AND INTRODUCTION TO THE LAW ON NERVOUS SHOCK
ANNA DIAMOND, Barrister, Kings Chambers
CLIENTS AND THEIR PERSPECTIVE
CLARE STONEMAN, Partner, Enable Law
FUNDING OF CLINICAL NEGLIGENCE CLAIMS
RANKESHWAR BATTA, Partner, Anthony Collins Solicitors
ASSESSING POTENTIAL NEW CLAIMS
MARGUARITA TYNE, Partner, Clarke Willmott LLP
NAVIGATING YOUR WAY THROUGH IMPORTANT SOURCES OF EVIDENCE
JULIE HARDY, Partner, Barratts Solicitors
SELECTING AND INSTRUCTING YOUR EXPERT
ALISON BROOKS, Partner, Barratts Solicitors
ANALYSING REPORTS
CHRIS BRIGHT QC, Barrister, No. 5 Chambers
DAMAGES – PART 1
JANINE COLLIER, Partner, Tees Law
JESSICA ELLIOTT, Barrister, 1 Crown Office Row
DAMAGES – PART 2 (AN OVERVIEW)
JANINE COLLIER, Partner, Tees Law
JESSICA ELLIOTT, Barrister, 1 Crown Office Row
CIVIL PROCEDURE – PRE-ISSUE
JENNY URWIN, Partner, Fieldfisher
CIVIL PROCEDURE – POST-ISSUE
LAURA DALY, Associate Solicitor, Irwin Mitchell, Birmingham
INTRODUCTION TO COSTS BUDGETING
MICHELLE WALTON, Solicitor Advocate, PIC
RESOLVING DISPUTES
ANDREW HANNAM, Consultant with Enable Law and Mediator with Trust Mediation​
FATAL CLAIMS
LEANNE WOODS, Barrister, 1 Crown Office Row
LEGAL UPDATE
WILLIAM AUDLAND QC, Barrister, 12 King Bench Walk
ELIZABETH BOULDEN, Barrister, 12 King Bench Walk​
Pre-recorded sessions released date: 19 January 2021
Live session date: 28 January 2021 from 9:30 am to 13:00
​​​​
​
We're sorry, but all tickets sales have ended because the event is expired.
January 28, 2021




10:00 am - 1:00 pm